Traditional Black Boned Chicken Tonic 6'S
Product Details
https://www.euyansang.com.sg/en/everyday-wellness-tonic/traditional-black-boned-chicken-tonic-6s-888842543147.html
888842543147
- 6x70g bottles/box
Product Actions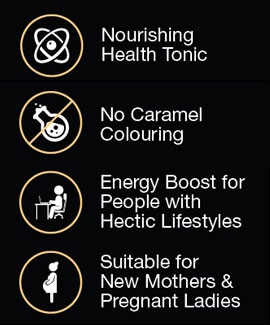 Benefits of Traditional Black Boned Chicken Tonic 6's
4 x more concentrated than soup
Get this for:
Additional Information
DETAILS

INGREDIENTS

HOW TO USE

THE SCIENCE

REVIEWS
DETAILS

Eu Yan Sang Traditional Black Boned Chicken Tonic uses modern technology to bring you superb convenience. You are now able to enjoy this full traditional nourishment without the hassle of long hours of cooking and preparation.

Complement your daily diet with Eu Yan Sang Traditional Essence of Chicken, a nutritious supplement that helps you stay on top of the game.

Whether you are preparing for that important meeting, sports event or studying for your examinations, Eu Yan Sang Traditional Black Boned Chicken Tonic is an excellent nutritious tonic for your needs.

Black boned chicken has a long history in Traditional Chinese Treatment. Accordingly to Chinese tradition, chicken tonic is highly prized as a health tonic. Apart from being a superb tonic for general health, Chinese mothers would dote on their loved ones, toiling everyday during the confinement period for more than 3 hours to make chicken tonic for her daughters who have just given birth.

Why Eu Yan Sang Traditional Black Boned Chicken Tonic?

100% pure chicken goodness made from premium graded fresh chicken certified by Good Animal Husbandry Practices, Department of Veterinary Services, Malaysia.

INGREDIENTS

100% Essence of Black Boned Chicken

HOW TO USE

Directions:
Teenagers and adults: 1 bottle daily served warm or chilled. May be taken on an empty stomach.

Storage:
Store in a cool dry place away from direct sunlight. Upon opening, please refrigerate and consume within 12 hours.

Note:
This product is made from all natural ingredients. Naturally occurring sediments may be seen. Do not consume the product if safety button on the cap is up or when the cap is damaged or tampered with. Shake well before use.

Recipe Suggestions:
Herbal Soup with Traditional Black Boned Chicken Tonic

Place suitable portion of herbs for female health in a bowl and break it into small pieces as appropriate. Add a bottle of Black Boned Chicken Tonic and top up with sufficient water to fill the bowl. Thereafter, stew it until the herbs are fully infused. Stir well and drink.

Steamed egg with Traditional Black Boned Chicken Tonic

Beat two eggs and add in 10 to 15ml if water. Thereafter, filter the eggs mixture. Add in Shitake mushrooms and wolfberries together with a bottle of Black Boned Chicken Tonic. Steam for 15 or 20 minutes and serve.

THE SCIENCE

Production Technology

Essence of chicken is produced at GMP certified fully automated production plant. The completely stainless steel equipment is linked by stainless steel pipes that carry the essences from one process to another. As the actual process of distilling the essences is automatic, there is almost no human contact until the packing and packaging stage. The entire manufacturing process is conducted in a dust and bacteria-free clean room environment.

Essence of chicken is made from superior authentic premium graded chicken certified with Good Animal Husbandry Practice. During the manufacturing processes (which includes the double-brewing method), the unwanted fats and cholesterol are extracted. The essences are manufactured in a very high temperature environment to kill off bacteria. They are then capped and sealed automatically to maintain proper sterilization as well as to preserve the natural goodness of the brews.

REVIEWS
DID YOU KNOW?
Eu Yan Sang Essence of Chicken is the only Essence of Chicken in Singapore that does not contain caramel colouring.
Recommended Reads