Muscle Relief Oil 60ml
Product Details
http://www.euyansang.com.sg/en/muscle-relief-oil-60ml-888842564333.html
Product Actions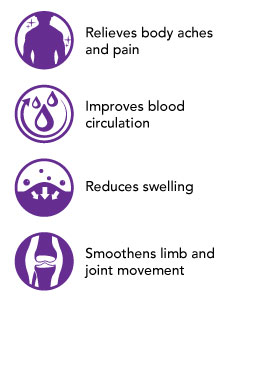 Additional Information
DETAILS

INGREDIENTS

HOW TO USE
DETAILS

Improves blood circulation, relieves body ache and pain, reduces swelling and smoothens movement of limbs and joints.

Indication:

Ache and pain of muscle, muscular fatigue, arthrictic and rheumatic pain, insect sting & bite and stomachache.

Relieves Body Ache and Pain

Improves Blood Circulation

Reduces Swelling

Relieves Insect Bites & Stomachache

INGREDIENTS

Methyl Salicylate 60%, Cinnamon Leaf Oil 40%

HOW TO USE

Directions:

Apply by rubbing or messaging gently on the affected parts for a few minutes. Hot sensation helps in providing better effect.

Storage:

Keep this product out of reach of children. Store in a cool dry place away from direct sunlight.