Joint Pain Relief Oil 60ml
Product Details
http://www.euyansang.com.sg/en/everyday-athletic-support/joint-pain-relief-oil-60ml-888842564331.html
Product Actions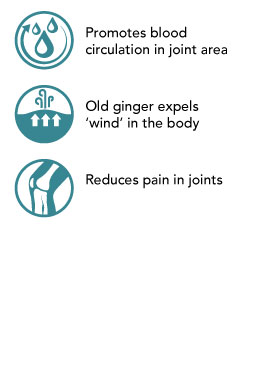 Additional Information
DETAILS

INGREDIENTS

HOW TO USE
DETAILS

Expels "wind" in the body, reduces pain in joints and promotes blood circulation in joint area after massage. Old ginger gives extra boost to expel wind

Indication:

Ache and pain of joints, arthritic and rheumatic pain

Old Ginger Expels 'Wind' in the Body

Reduces Pain in Joints

Promotes Blood Circulation in Joint Area

INGREDIENTS

Methyl Salicylate 52%, Turpentine Oil 25%, Camphor 14%, Menthol Crystal 7%, Chinese Cassia Oil 1%, Old Ginger 1%

HOW TO USE

Caution:

For external use only. Not suitable for pregnant or nursing woman and infants

Storage:

Keep this product out of reach of children. Store in a cool dry place away from direct sunlight.