Liva Max™
Product Details
http://www.euyansang.com.sg/en/everyday-anti-oxidants/liva-max-888842522121.html
888842522121
- 60 x 500mg capsules/box
Product Actions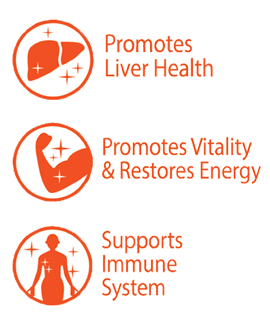 Suitable For
Seniors

Individuals who keep late nights

Office executives

Vegetarians

Smokers

Regular alcohol drinkers
Additional Information
DETAILS

INGREDIENTS

HOW TO USE
DETAILS

Eu Yan Sang Liva Max™ which contains 100% Antrodia Cinnamomea (AC) Mycelium, is a natural health supplement that supports liver health and general well being.

AC is a highly valued herb found only in Taiwan and is a trusted remedy for promoting liver health and alleviating liver conditions. Eu Yan Sang Liva Max™ can also be used to promote vitality, enhance body functions and improve immunity.

Highest Quality Assured

rDNA testing, Herb "Finger Printing" and Hazard Analysis & Critical Control Point (HACCP) Practice are applied to ensure a premium product with the highest quality and safety standards.

INGREDIENTS

Each capsule contains Antrodia Cinnamomea Mycelium 500mg.

HOW TO USE

Recommended Dosage:

Maintenance: 1 capsule twice daily before meal

Enhancement: 2 capsules twice daily before meal

Storage:
Store in a cool dry place below 30°C. Avoid direct sunlight. Keep out of reach of childen.

Precaution:
Avoid consumption when suffering from fever, influenza and during menstruation. Not be taken with other medication. Not suitable for young children, pregnant & lactating mothers.
Recommended Reads