http://www.euyansang.com.sg/en/food-seafood/superior-braised-japanese-golden-abalone-%28bundle-of-3-buy-1-get-1-fg%29-8888425332333Bundle.html
Superior Braised Japanese Golden Abalone (Bundle of 3 + Buy 1 get 1 + FG)
8888425332333Bundle
- 425g
What's Inside
Products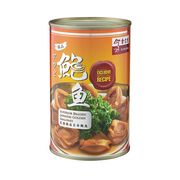 Additional Information
DETAILS

INGREDIENTS

HOW TO USE
DETAILS

Eu Yan Sang Superior Braised Japanese Golden Abalones is prepared with first grade abalones of a special Japanese special and braised in supreme broth to provide the finest selection. The abalones are cleansed and prepared in the shortest possible time to preserve their taste and aroma. Try them and discover this scrumptious choice!

No Artificial Colourings

No Added Preservatives

This Bundle Contains:

6x Superior Braised Japanese Golden Abalone

Worth $408.00

INGREDIENTS

Ingredients: Water, Abalone, Chicken Stock, Oyster, Brown Braising Sauce, E1442

HOW TO USE

Heat up to serve, no cooking required.