http://www.euyansang.com.sg/en/food-seafood/prosperous-reunion-treat---royal-supreme-abalone-treasure-pot-%28peng-cai%29-w-free-prosperous-dining-set-%28worth-%24118%29-PenCai_GWP_set.html
Prosperous Reunion Treat - Royal Supreme Abalone Treasure Pot (Peng Cai) w Free Prosperous Dining Set (Worth $118)
PenCai_GWP_set
- 1900g can
What's Inside
Products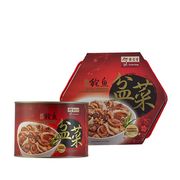 Additional Information
DETAILS

"Peng Cai" or Treasure Pot, is a well-known traditional dish for festive seasons. Today, Peng Cai has become a meaningful dish during the Lunar New Year. Eating Peng Cai during family gatherings signifies reunion, harmony and auspiciousness.

In addition, the character "盆" which means 'Pot' in the Chinese product name also symbolises wealth and lots of money earned. So, celebrate the festive season with a Treasure Pot and usher in good luck for all in the family.

Each can of Royal Supreme Abalone Treasure Pot contains whole abalones, dried mushrooms, abalone mushroom slices, coprinus mushrooms, top shells, white fungus and dried scallops in supreme broth.

No preservative or artifical colouring.

Create a sumptuous dish by simply heating the contents or add in extra ingredients of your choice to whip up a savoury sensation.

----------------------------------------------------------

Recipe Idea: Eu Yan Sang Supreme Abalone Treasure Pot

Ingredients (Serves 10)
1 can Eu Yan Sang Royal Supreme Treasure Pot
300g Tianjin Cabbage (or "Wombok")
300g Bamboo Piths
10 pieces Mid-Joint Chicken Wings
10 pieces Prawns

Method

Soak bamboo piths separately in hot water for 30mins.

Marinate mid-joint chicken wings with salt and minced garlic for 30mins and steam chicken for 15mins. Set aside.

Heat some oil. Pat dry prawns and stir fry with salt and pepper till prawns turned red and soft. Set aside.

Drain out all ingredients from Eu Yan Sang Royah Supreme Treasure Pot and separate the sauce. Cook sauce with mushroom, scallops and bamboo piths and bring to boil. Then add on the rest of the ingredients from the Treasure Pot, to warm it up.

Place Tianjin cabbage into the serving pot and the rest of the ingredients such as abalone, chicken, prawns and add the hot sauce on top of these nicely laid ingredients.

Serve and enjoy!

----------------------------------------------------------

INGREDIENTS

Supreme Broth (Water, Fish Bones Collagen, Chicken Powder, Salt), Abalones, Dried Mushrooms, Abalone Mushroom Slices, Coprinus Mushrooms, Fish Maws, Top Shells, White Fungus, Dried Scallops.