http://www.euyansang.com.sg/en/food-seafood/palace-grande-abalone-fragrant-chicken-treasure-pot-%28peng-cai%29-with-digital-slow-cooker-bundle-888842533241_Digital_Cooker_Bundle.html
Palace Grande Abalone & Fragrant Chicken Treasure Pot (Peng Cai) with Digital Slow Cooker Bundle
888842533241_Digital_Cooker_Bundle
- 1900g can
What's Inside
Products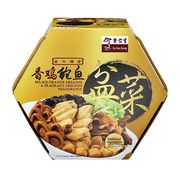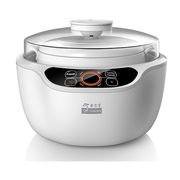 Additional Information
DETAILS

INGREDIENTS

HOW TO USE
DETAILS

Free with every purchase of Peng Cai set (worth $119.90)! The reunion dinner is a time to bond with your family while indulging in delicacies. Enjoy a nutritious reunion dinner with your loved ones by double boiling herbal tonics with our exclusive Bounteous Digital Slow Cooker (Double Boiler).

Eu Yan Sang Palace Grande Abalone & Fragrant Chicken Treasure Pot is made from selected abalones, dried scallops, mushrooms and other ingredients that are cooked in a specially prepared fish collagen broth. This delicious dish comes conveniently with chicken wings that are cooked for long hours to create a soft, tender and succulent texture that can be enjoyed by the whole family. Create a scrumptious dish by simply heating the contents or add in extra ingredients of your choice to whip up a savoury sensation.

"Peng Cai" or Treasure Pot, is a well-known traditional dish for festive seasons. Today, Peng Cai has become a meaningful dish during the Lunar New Year. Eating Peng Cai during family gatherings signifies reunion, harmony and auspiciousness.

In addition, the character "盆" which means 'Pot' in the Chinese product name also symbolises wealth and lots of money earned. So, celebrate the festive season with a Treasure Pot and usher in good luck for all in the family.

INGREDIENTS

Superior Soup (Water, Chicken Powder, Salt), Chicken (Chicken Mid-Wings), Mushroom, Abalone, Abalone Mushroom, Top Shell Meat, Coprinus Mushroom, Scallop.

This product is manufactured in a Halal, HACCP and ISO 22000:2005 certified factory.

HOW TO USE

Cooking instructions:

Open can and set abalones aside. Pour out other ingredients and soup into a pot and bring to boil (without abalones). When the soup mixture boils, place abalones back into the mixture, stir for 5 seconds and serve.